Iolanda Morana Roccasalvo
Primary tabs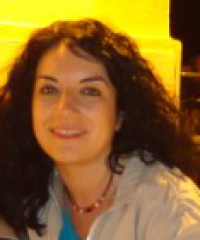 Morana Roccasalvo , Iolanda
About Me:
EDUCATION
2011 - Master degree in Biomedical Engineering, Faculty of Engineering, University of Pisa.
CONFERENCE ATTENDANCE
ENCODS 2013. Bordeaux - France.
Selected Publications:
Journal
Sergi PN, Morana Roccasalvo I, Tonazzini I, Cecchini M, Micera S (2013) Cell Guidance on Nanogratings: A Computational Model of the Interplay between PC12 Growth Cones and Nanostructures.PLoS ONE8(8):e70304.doi:10.1371/journal.pone.0070304.
Conference Proceedings
Pier Nicola Sergi, Iolanda Morana Roccasalvo, Marco Cecchini, Silvestro Micera. Biomechanical coupling between PC12 and nanograting induces alignment of neurites. Proceedings of ESB2012 - 18th Congress of the European Society of Biomechanics, 2012, 45, Supplement 1, S417.