Michela Aquilano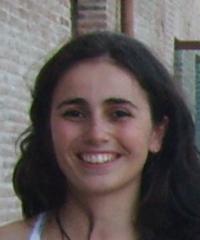 Dr. Aquilano , Michela
About Me:
Michela Aquilano (M'04) was born in San Giovanni Rotondo (FG), Italy in 1980. She received the Master Degree in Biomedical Engineering at University "Campus Bio-Medico" of Rome on November 2004 and received the PhD in Biorobotics Science and Engineering from the Scuola Superiore Sant'Anna and IMT Advanced Studies in July 2008. Currently she is a post-doc at the Assistive Robotics Lab of the BioRobotics Institute and her research fields are the Ambient Assisted Living (AAL) and Service Robotics. She is working on several national and European projects managing the analysis of the design requirements of technologies and services and the experimentation and evaluation of ICT and robotic technologies according to the usability and acceptability criteria, and supporting the project management.
Selected Publications:
Filippo Cavallo, Michela Aquilano, Manuele Bonaccorsi, Raffaele Limosani, Alessandro Manzi, Maria Chiara Carrozza and Paolo Dario, "On the design, development and experimentation of the ASTRO assistive robot integrated in smart environments", IEEE ICRA 2013 conference, 2013
Michela Aquilano, Filippo Cavallo, Raffaele Esposito, Erika Rovini, Massimo Filippi, Dario Esposito, Paolo Dario,, and Maria Chiara Carrozza, "Ambient Assisted Living and Ageing: Preliminary Results of RITA Project", IEEE EMBC2012 conference, 2012
Michela Aquilano, Filippo Cavallo, Irene Mannari, Maria Chiara Carrozza, and Paolo Dario, "Acceptability and User Centered Design of ASTRO: the assistant robot of elderly people", ICSR 2011 Conference, 2011
F. Cavallo, M. Aquilano, M. Bonaccorsi, I. Mannari, M.C. Carrozza, P. Dario, "Multidisciplinary approach for developing a new robotic system for domiciliary assistance to elderly people", IEEE EMBC 2011 Conference, 2011
F. Cavallo, M. Aquilano, G. Anerdi, M.C. Carrozza, P. Dario, and A. Greco, " Technological and cognitive roadmaps for Ambient Assisted Living", HCP 2011 Conference, 2011
F. Cavallo, M. Aquilano, L. Odetti, M. Arvati, and M.C. Carrozza, "A first step toward a pervasive and smart ZigBee sensor system for assistance and rehabilitation", IEEE ICORR2009 conference, 2009
M. Aquilano, C. Salatino, and M. C. Carrozza, "Assistive Technology: a New Approach to Evaluation," IEEE ICORR'07 conference, 2007.