Torquato Cecchini
Primary tabs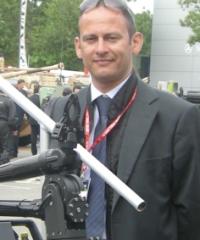 Dr. Cecchini , Torquato
About Me:
Torquato earned his Bachelor's degree in Control Systems Engineering from the University of Pisa, Italy.
Over more than 20 years of experience in robotics and various industries he got deep experience in control systems, specializing in robotics integration for a wide range of applications, from teleoperated to completely autonomous ground platforms, to robotic arms and sensors from vision to 3D laser systems.
He has ever been fascinated with building and controlling machines. At the age of 15 he served as a mechanical assistant in mounting particles collision filters in the Large Hadron Collider at CERN.
Started from unmanned vehicles systems nowadays involved in the Artificial Hands Area as a research fellow his activities are focused onto upper limbs prosthetics.
Selected Publications:
System Control Architecture for a Remotely
Operated Platform for S&R, IED-EOD and NBC
applications.
Note: accepted SSRR2011.
Autori Torquato Cecchini, Paolo Villella, Fabrizio Rocchi.
From tele-laboratory to e-learning in automation
curricula at the university of Pisa. Note: (accepted IFAC05), 2005.
Autori A. Balestrino, A. Bicchi, A. Caiti, V. Calabro', T. Cecchini, A. Coppelli, L.
Pallottino e G. Tonietti.
A Robotic Set-Up With Remote Access For "Pick
and Place" Operations Under Uncertainty
Conditions
VIRTUAL-LAB 2004 (In conjunction
with ICINCO 2004), vol. 1, pp. 144-149,
Setùbal-Portugal 2004
Autori Aldo Balestrino, Antonio Bicchi, Andrea Caiti, Torquato Cecchini, Lucia
Pallottino, Andrea Pisani e Giovanni Tonietti.
Sicurezza ed Operabilità di un Set-Up Robotico Tesi di Laurea, Pisa
Autori Torquato Cecchini
Advanced Techniques for Tele-manipulation
EURON International Summer School in
Online and Internet Robots, Benicàssim,
SPAIN - September 15-19, 2003
Autori Antonio Bicchi, Torquato Cecchini, Lucia Pallottino, Andrea Pisani e
Giovanni Tonietti.