December 6, 2013 - S.0.S. work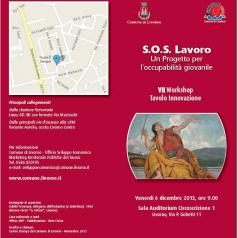 Workshop "S.O.S. work - A Project for the employability of youth"
Livorno, December 6, Sala Auditorium Circoscrizione 1 Livorno, Via P. Gobetti 11.
The "Innovation Table" of the Employment Policies Department (Municipality of Livorno) is organizing a workshop on youth employability, one of the four development assets formulated in the local Municipal Plan of Economic Development.
The issues addressed by various speakers (among others : Alessandro Cosimi, Mayor of Livorno, Darya Majidi, Labour Councillor and Simplification, Municipality of Livorno, Gianfranco Morelli, President Greenlab; Antonella Querci, Corporate Development and Innovation, Livorno Port Authority, Maurizio Buratti, President CompoLab; Alessandro Giari, General Manager "Polo Scientifico e Tecnologico" of Navacchio; Enza Spadoni, Technology Transfer Manager BioRobotics Institute; Gianfranco Simoncini, Councillor for Productive Activities, Employment and Training, Tuscany Region) will be related to the exploitation of creativity in people; greater interaction between the world of school and the world of work to create new entrepreneurship training system that constitutes a response to the production system; awareness value of entrepreneurship, etc .
The appointment is on Friday , December 6, starting at 9 am at the Auditorium District 1 Leghorn , Via P. Gobetti 11